In 1989 the Law Enforcement Center was constructed and the jail is located on the second floor. When it opened it housed approximately 195 inmates. In 2001 the Bivens Whitten Juvenile Detention Center was closed and in 2006 the building was remodeled to house adult prisoners. With the remodeling the current jail now houses 425 inmates. New technology in the jail includes digital video recording of 168 cameras and video visitation. The new cameras throughout the jail ensure better security for inmates, staff and visitors.


Prior to 1989 the Macon County Jail was located above the Macon County Courthouse. It housed approximately 80 inmates.


The Macon County Sheriff's Office has a zero-tolerance policy with regard to sexual abuse and sexual harassment of inmates, either by staff members or other inmates. Inmates have the right to be free from sexual abuse, from sexual harassment and from retaliation for reporting such incidents. For more information regarding
PREA-Prison Rape Elimination Act click here
. To view the 2017 PREA Audit Report click here.

The Illinois Department of Corrections has completed an inspection of the Macon County Jail on June 26th, 2017. Click here for the 2017 IDOC Inspection Report
.



Visiting hours for the Macon County Jail are as follows: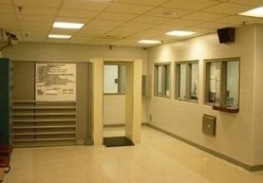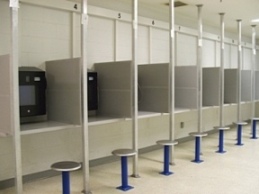 Sunday
Monday
Tuesday
Wednesday
Thursday

10:00am to 2:00pm & 3:00pm to 8:00pm
10:00am to 2:00pm & 3:00pm to 8:00pm
10:00am to 2:00pm & 3:00pm to 8:00pm
10:00am to 2:00pm & 3:00pm to 8:00pm
10:00am to 2:00pm & 3:00pm to 8:00pm




The Visitation Lobby will be closed on the following holidays; Easter, Thanksgiving and Christmas.

Macon County Jail Visitation Lobby

Macon County Jail Video Visitation

The Jail Policy regarding visitation is posted on the second floor of the Law Enforcement Center in the jail visitation lobby.


VISITORS MUST COMPLY WITH THE FOLLOWING RULES:


1. Visitor MUST be on the inmate's visitation list in order to visit.
2. All visitors will be required to sign in and provide proper identification including address. (I.E.: Drivers License, State ID).
3. All identification must be readable by jail staff. Damaged identification cards will not be accepted.
4. Visitors must be 17 years of age or older unless accompanied by a legal guardian.
5. Two adults or one adult and two children will be allowed to visit at one time. No more than two children will be permitted.
6. Adults must control children while in visitation. Failure to control the children will result in your visit being terminated.
7. No Visitor appearing to be under the influence of alcohol or drugs will be permitted to visit.
8. Your visit may be monitored and recorded.
9. Proper attire must be worn for visits. No halter tops, tube tops, bikini tops or see thru clothing will be permitted in visitation.







Make Payments Simply
Macon County Sheriff's Office now accepts credit and debit card payments through GovPayNet. Payments can be made with a major credit, debit or pre-paid debit card, Including:



For payments by phone, call 1-877-EZBAIL5 (1-877-392-2455)

CURRENT INMATE INFORMATION

This page will provide bail amount and court information for inmates currently in custody.

The fastest way to send money to an inmate in Macon County Jail.


SECURE DEPOSITS


Internet Deposits

www.jailatm.com